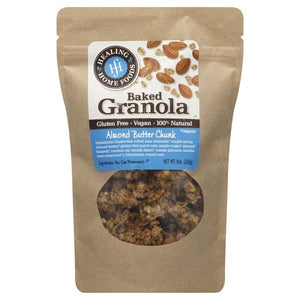 We combine our freshly ground organic almond butter (also available for purchase individually),  with high quality organic almonds and gluten free oats for this delicious treat. We employ raw food techniques combined with careful baking to make for a sweet, buttery-tasting granola. Eat it with your favorite dairy/non-dairy product, or nibble as a snack on its own. Just try not to eat the whole bag—we dare you.
Ingredients
Gluten-Free rolled oats, *sprouted almonds, *maple syrup, *almond butter, gluten-free quick oats, *maple sugar, *ground flaxseed, *coconut oil, vanilla flavor (water, glycerin, vanilla bean extractives), Himalayan crystal salt.
*Organic
This product comes in a stay-fresh, resealable package, recyclable. 7 o.