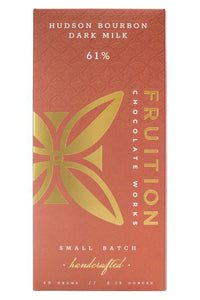 Dark chocolate 61%
Bourbon flavored Chocolate. Roasted cocoa nibs aged with Tuthilltown Spirits bourbon barrel staves and Hudson Baby Bourbon are then crafted into a creamy dark milk chocolate with hints of oak and bourbon.
Weight: 2.11oz / 60g
Ingredients: Cocoa Beans*, Cane Sugar*, Whole Milk Powder, Cocoa Butter*, Bourbon 
*Organic
Multi-Award Winner!
1st Place Inclusion Bar: Northwest Chocolate Festival, 2015

World Silver in the International Chocolate Awards, 2015 and 2016

Winner: Good Food Awards, 2017