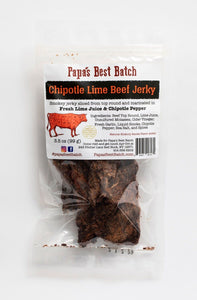 Tangy and Spicy!

Papa's Chipotle Lime Beef Jerky starts with large slices beef top round, and then is marinated in fresh lime juice, unsulfured molasses, cider vinegar, fresh garlic, liquid smoke, chipotle pepper and Papa's secret blend of sea salt and spices.
All our jerkies are gluten free and contain no artificial ingredients and are a healthy and tasty snack for the whole family.

Ingredients: Beef Top Round, Fresh Lime Juice, Unsulfured Molasses, Cider Vinegar, Fresh Garlic, Liquid Smoke, Chipotle Pepper, Sea Salt and Spices.

Proudly made using USDA Grade A American whole beef top rounds.