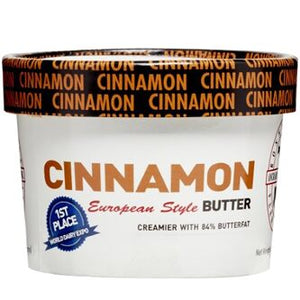 Ronnybrook Farm Dairy  butter is fresh churned in small batches at the creamery. It is rich and creamy with 84-86% butterfat content. Ronnybrook butter, churned in 40 gallon batches which produces a higher butter fat content and allows for very little moisture. 
Award winning cinnamon butter is a worth contender at the breakfast table, or used in baking recipes, or on roasted carrots or squash!

2012 World Dairy Expo Winner
1st PLACE - RONNYBROOK CINNAMON TOAST BUTTER
8 oz. container
The dairy farm is located in Ancramdale, New York.