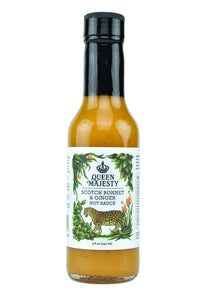 Queen Majesty Scotch Bonnet & Ginger Hot Sauce has a vibrant flavor and a slow-burning heat. This original recipe is very loosely based off of a Jamaican jerk recipe; this is a surprisingly versatile sauce and can be added to almost all of your favorite dishes.
HEAT LEVEL = HOT

** WInner of Screaming Mimi's Gold Medal 2015 in the All Natural category at the NYC Hot Sauce Expo **

INGREDIENTS:
White vinegar, sweet onions, orange bell peppers, scotch bonnet hot peppers, lemon juice, ginger root, garlic, olive oil, salt and spices. 
5 oz. glass bottle with tamper resistant wrapping.