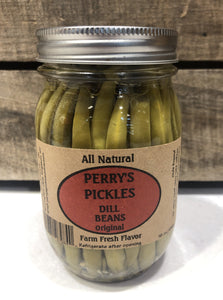 Dill beans are a great alternative to traditional pickles made from cucumber, with the same pickling liquid for recognizable flavor.  Chop them up for your three bean salad, or atop fresh lettuce with other garden vegetables for a light, savory supper.
Produced in Rosendale, New York with fresh ingredients, using local, seasonal produce when available.  Shelf stable until opened; refrigerate after opening.
16 oz. glass jar, heat sealed in the canning process.