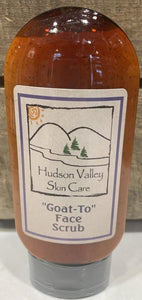 Details: Polish your skin to perfection! Our Goat-To Face Scrub gently exfoliates your face. Dead skin cells are gently buffed away, leaving skin appearing smoother and brighter.
Benefits: Skin is gently exfoliated, leaving improved texture and clarity, resulting in a healthy glow.
How To Use: Apply to damp skin in small, circular motion. Rinse off and pat dry. Gentle enough for daily use.
Key Ingredients: Coach's Farm Goat's Milk, Organic Olive Oil, Hudson Valley Cold Pressed Sunflower Oil, Organic Cocoa Butter
3.8 oz plastic container