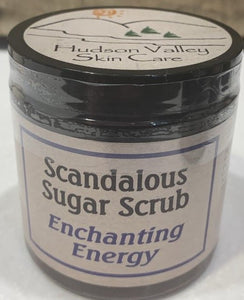 This Scandalous Sugar Scrub will exfoliate your entire body, leaving your skin irresistibly soft and silky. Scented with Energizing Citrus fragrance, this product is sure to refresh your skin and your spirit! Turbinado Sugar, ground Apricot and Walnut shells gently polish the skin.
Benefit: Clean, smooth skin.
Use: In the shower, massage onto damp skin in a circular motion. Rinse well and pat skin dry.
Key Ingredients: Organic Argon Oil, Ground Walnut and Apricot Shells, Turbinado (raw) Sugar 
8.8 oz/ 250 g Plastic Container