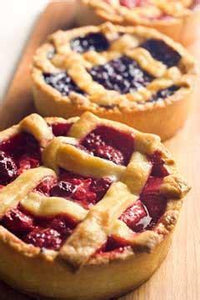 Dutch Desserts, from New York's Hudson Valley, started with a Dutch Apple Tart that made people forget all about Mom's Apple Pie.
Their fascination begins with the crust, Marjan's secret and treasured recipe. Then they realize these tarts aren't too sweet, they make your taste buds jump to life. For years you could only get these tarts in Northeast specialty stores and farmer's markets. Exquisite Tarts.
Bakery in Kinderhook, New York. 
Original Dutch Apple – Blueberry – Mixed Berry – Peach – Raspberry – Peach/Raspberry – Strawberry/Rhubarb – Pumpkin – Pecan – Chocolate

5 inch tart